Graphic tees are the fashion statement of the moment. For tee lovers, you can now confidently wear your cool graphic tees without looking like a dork.
11 Ways Fashionistas Style Cool Graphic Tees
Ever have those days when you're too lazy to think of your #ootd? Well, with a little creativity and style, a cool graphic tee may just be the answer to your lazy day woes. #firstworldproblems
From tomboys to fashionistas, every girl has a few graphic tees in their closet they quickly throw on before heading out to run errands, hang around the house, or spend the day at the park. We're here to say that graphic tees can be more than just basic; if styled fashionably, they can be the statement-making piece of your entire outfit.
Gone are the days when women were forbidden to express themselves. Nowadays, both women and men are less afraid to make daring fashion statements, so what better way to do that than with the ever-cool graphic tee? Pair it with leggings, add a blazer for a sophisticated look, or rock it with a fun leather mini-skirt. When it comes to styling graphic tees, the possibilities are infinite.
See how fashionistas style cool graphic tees and get inspired to wear your own.
1. Monochrome Graphic Tee
Use the main color of your graphic tee as the color for your entire outfit. If opting for a minimalist look, lose the accessories.
2. Pair it with a Statement Necklace
Accessories can go a long way in dressing up your tee, especially statement accessories like loud necklaces and drop earrings. When choosing a necklace to pair with your graphic tee, always remember the classier, the better.
3. Tucked In Tees
Graphic tees can be pretty frumpy, so to upgrade them to WhoWhatWear status we tuck our tees in. Tucking in your shirt will also give you a slight boost in height.
4. Put a Blazer on It
This is a common trick that will instantly make your graphic tee look chic. For more chic work outfit ideas, click here.
5. Look Like a Rockstar with a Leather Jacket
To keep your graphic tee and leather jacket combo as stylish as possible, pair it with cute microprint pants, heels, and a clutch. For an edgier look, pair your graphic tee and leather jacket with distressed boyfriend jeans and Doc Marten's.
6. With a Flannel & Baseball Cap
On days when simplicity and comfort are the mantra, the flannel and basecall cap combo is never a bad answer.
7. With Denim Cut-Offs & a Long Cardi or Blazer
Get super casual with a pair of shorts. The trick to making this outfit work is to keep the accessories minimal and edgy with pieces like metallic footwear or a geometric bracelet. To stay in line with the theme of simplicity, keep your hair and makeup minimal.
8. With a Mini Skirt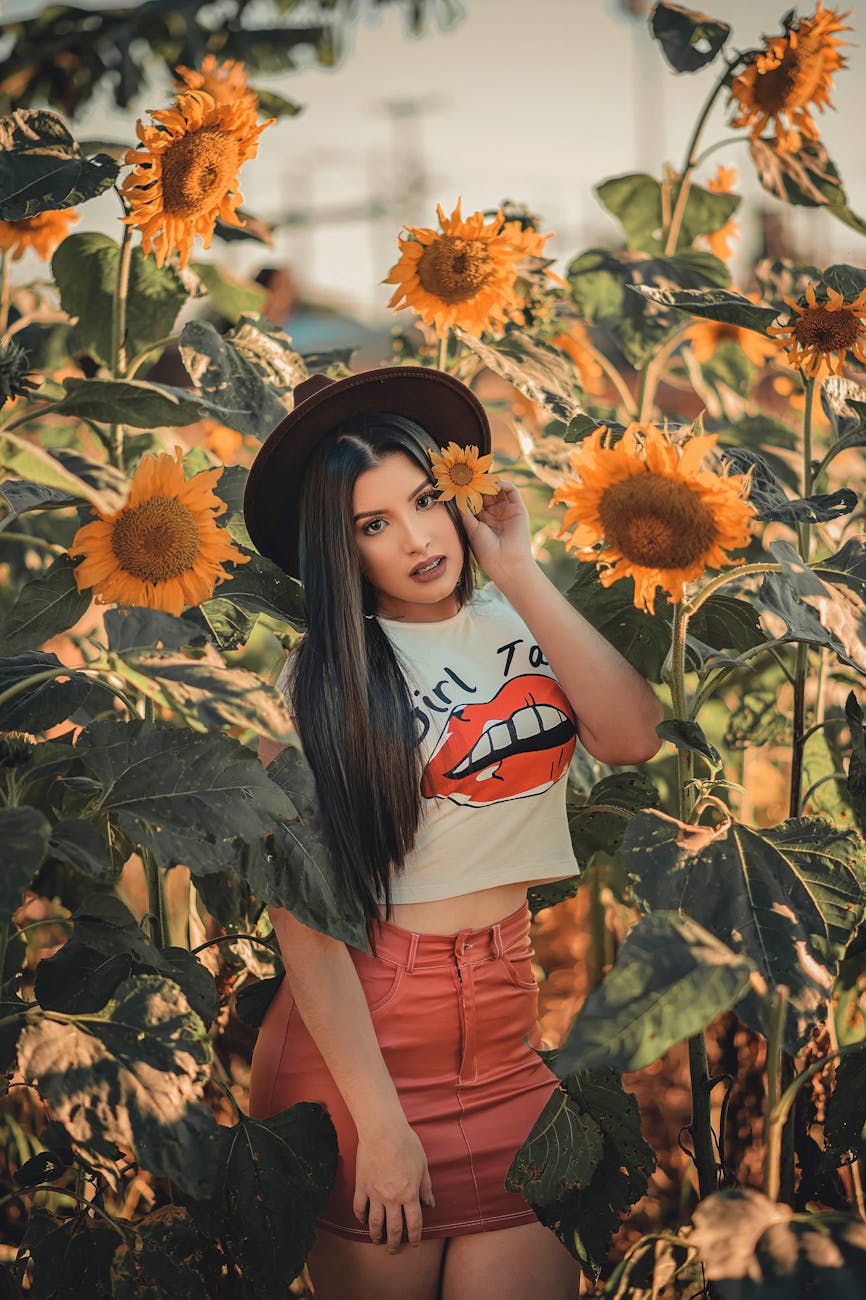 When pairing your graphic tee with a mini skirt, look for a skirt that is tailored instead of a skater cut that will, undoubtedly, make you look like a teenager.
9. Ready for Work with a Pencil Skirt
For a sophisticated look that's suitable for work, pair your graphic tee with a pencil or bodycon skirt. Tuck your shirt in, get your best pumps, and walk the streets like it's your catwalk.
10. Modern Day Audrey Hepburn
A full skirt instantly makes any outfit feel like one the iconic Audrey Hepburn would have worn. We love this polished pairing with something a bit more downtown and casual, like a graphic tee! To get really cheeky with the look, pair these two with a pearl necklace and vibrant lipstick.
11. Go Boho with a Maxi
This is the ultimate mashup between comfort and style. Without a maxi skirt in place, this graphic tee would look like your everyday t-shirt and we wouldn't want that, would we?
Bonus: Just have fun. Be you. If you dress in what makes you truly feel comfortable and confident, you'll never have a bad outfit. 🙂
---
How do you style your graphic tee? For more ways to style your #ootd, like us on Facebook!
---
More great fashion advice is on the way! Check out: