First impressions are everything, especially when it comes to job interviews. What you wear when meeting your prospective employers can make or break your chances of landing your dream job. So make sure you're dressed to impress with chic outfits! They say you should dress for the job you want, not the job you have. That can't be more true when it comes to job interview outfits. Read on to get chic inspiration for your next big interview!
Chic Interview Outfits To Help You Land The Job
How To Dress For Your Dream Job
On the other hand, the interview outfits you choose also depend on what kind of job you're applying for. Are you going corporate or creative? Are you applying for a start-up or an established company? However, there are basic rules for choosing interview outfits regardless of where you're interviewing. Keep it sharp, crisp, and modest. Go for classic silhouettes in subdued colors and tone down the accessories. Think chic, not trendy.
1. Sheath Dresses
A dress and blazer combo is one of those no-fail interview outfits that work for any job interview. If you need to be extra formal, go all black. Plus, once you've landed the job, sheath dresses and blazers are work wear staples you'll wear almost every day.
2. Navy Blue Suits
Speaking of work wear staples, a well-tailored navy blue suit is another essential. Wear this classic suit for corporate interviews with strict dress codes. How do you keep it from looking like a uniform? Make sure it fits you perfectly. Remember, fit is key!
3. White Dresses
If you want to make a more feminine impression with your job interview outfits, white is a safe color to wear. It's clean, crisp, and chic. Keep your accessories light as well, like nude pumps and silver jewelry.
4. All Black
If you're interviewing for a creative or fashion-related job, you're in luck! However, looking polished is still the best way to impress during your interview. An all-black outfit can show how well you can play with silhouettes. Black is always edgy but never dated.
5. Cigarette Trousers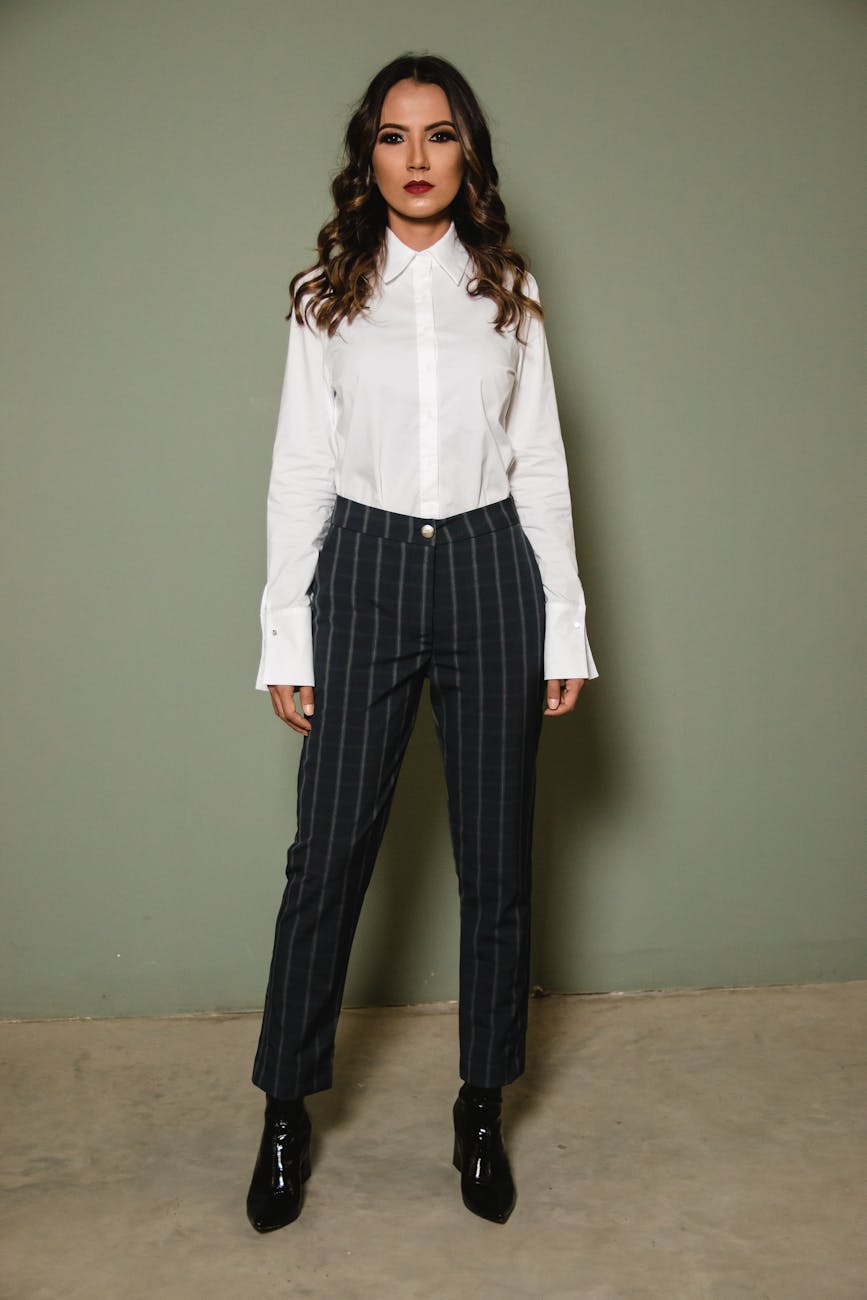 Basic work slacks won't cut it if you want to stand out with your interview outfits. Opt for cigarette pants instead! They're tailored, chic, and they'll make you look taller
6. Pencil Skirts
If you're not a fan of black or dark shades, you can wear lighter shades too! Just make sure to stick to classic silhouettes like pencil skirts and button-down shirts.
7. Neutral Jackets
Brown is another safe color option you can explore for interview outfits. Brown and black is a chic color palette, especially during the summer.
8. Grey Blazers

A grey blazer is another work wardrobe staple. As early as your interview, you should definitely invest on a well-tailored piece like this. Wear it with pants, skirts, dresses, or even jeans!
9. Power Suits
Nothing will make you feel more confident during your interview than a power suit. Whether you're interviewing for a finance job or a fashion job, you'll definitely leave a good impression.
10. Blazer Dresses
If you're more of a trendsetter, why not combine a blazer and a dress? Blazer dresses are edgier, but they still scream #GirlBoss.
Watch this video Glamour Magazine for more job interview outfits:
When choosing job interview outfits, remember the 3 Cs: clean, crisp, and chic. Opt for classic outfits that have stood the test of time and you'll surely land your dream job.
Want more work outfits? Check these out!
Liked these interview outfits? You'll also like:
10 Wear To Work Dresses For Busy Women | Cute Professional Outfits
11 Irresistibly Cute Professional Outfits For Summer