Small, medium or large – the sizes do not matter! It's the fall season, ladies, and every woman has the right to dress fabulously in her own way. However, choosing the perfect outfit could be tricky. Luckily, I have here fashion ideas that are very helpful when picking a garment that will flatter your shape. Just think which color will work best for your body, and the style you are most confident wearing. Read on and let's see the plus size fashion that will amp up your wardrobe this fall!
11 Plus Size Fashion Looks For Fall That Don't Suck
Girl, if you got the curves, show them and flaunt them! A curvy-licious girl like you does not need to hide under potato sacks this season. Embrace your body and your fashion choices will soon follow. If you're already confident, that's great! That will help you wear your clothes with pride and utmost confidence too.
So about plus size fall fashion, I know that some plus size women do not layer clothes because they believe it makes them look bigger. That's not really true, especially if you know what pieces to layer. Below are plus size looks to try this season:
1. Stripes Don't Scare Me
Do horizontal stripes scare you? Not anymore, they won't. While horizontal stripes can make you look wider, it won't have the same effect once you wear a blazer or a coat on top of it. Why do we love stripes? It's great to mix and match with solid colors.
2. Scarf Magic
At first look, this outfit seems like it has way too many things going on. Well, not really. Take a closer look and you'll notice that it's all about the scarf! Stock up on scarves that have unique prints, colors, and patterns because it will instantly give your outfit extra oomph!
3. I'm Fall Red-y with Red Leather Jacket
I can't even begin to explain how in love I am with this look. Brick red, black, and burgundy are lovely fall colors and putting them all together in one look is just to die for. One thing that I also notice is that she tamed down her makeup. She picked nude lips instead as to not give off an overpowering look. Love it!
4. The Power of Layers
Although the previous photos already showed layering, I picked this one to specifically show you why layering is awesome for extended sizes. Here, she wore a basic plain white shirt over black pants. All she had to do to add edge to her look was wear this really cool jacket and then wear a scarf too. The end result? A fall fashion-worthy look!
5. Work That Skirt with Mid-calf Pencil Skirt and Boots
There are plus size women who do not feel comfortable wearing a mid-calf length skirt because they fear it makes their figures appear rounder. But girl, the simple solution is to wear knee high boots. The skirt length plus the knee high boots will make you look lengthier and taller too!
6. Dress and Sleeves
So… keeping warm doesn't mean wearing tights all the time. In this look, this blogger rocked her fall outfit simply by wearing a dress over her long sleeve shirt. What a cool genius move! She also made the right decision with those boots.
7. Too Cool for School
Too cool for school? Oh yes, you are! That's because you are rockin' the office life now, honey. What we have here is a great work look because it's not too casual nor formal. Even the knee high boots complement the ensemble really well.
8. No Dress Stress Here with Black Tights and Boots
I believe I've mentioned this before in my other pieces. An easy way to make dresses fall-ready is to simply wear tights and boots. Yup, just wear those too and you have put together a trendy fall look. It always works!
9. Zero Layers
Not feeling like layering today? That's perfectly fine! In the photo above, what made her look fall-worthy was that she wore a peplum top in Marsala (one of Pantone's top fall colors) so that in itself already exudes fall attitude. The next highlight is, of course, her boots, which shows how important it is to have the right boots this season. And hey, don't forget some statement jewelry too, they are a hot trend this fall.
10. Leather Jackets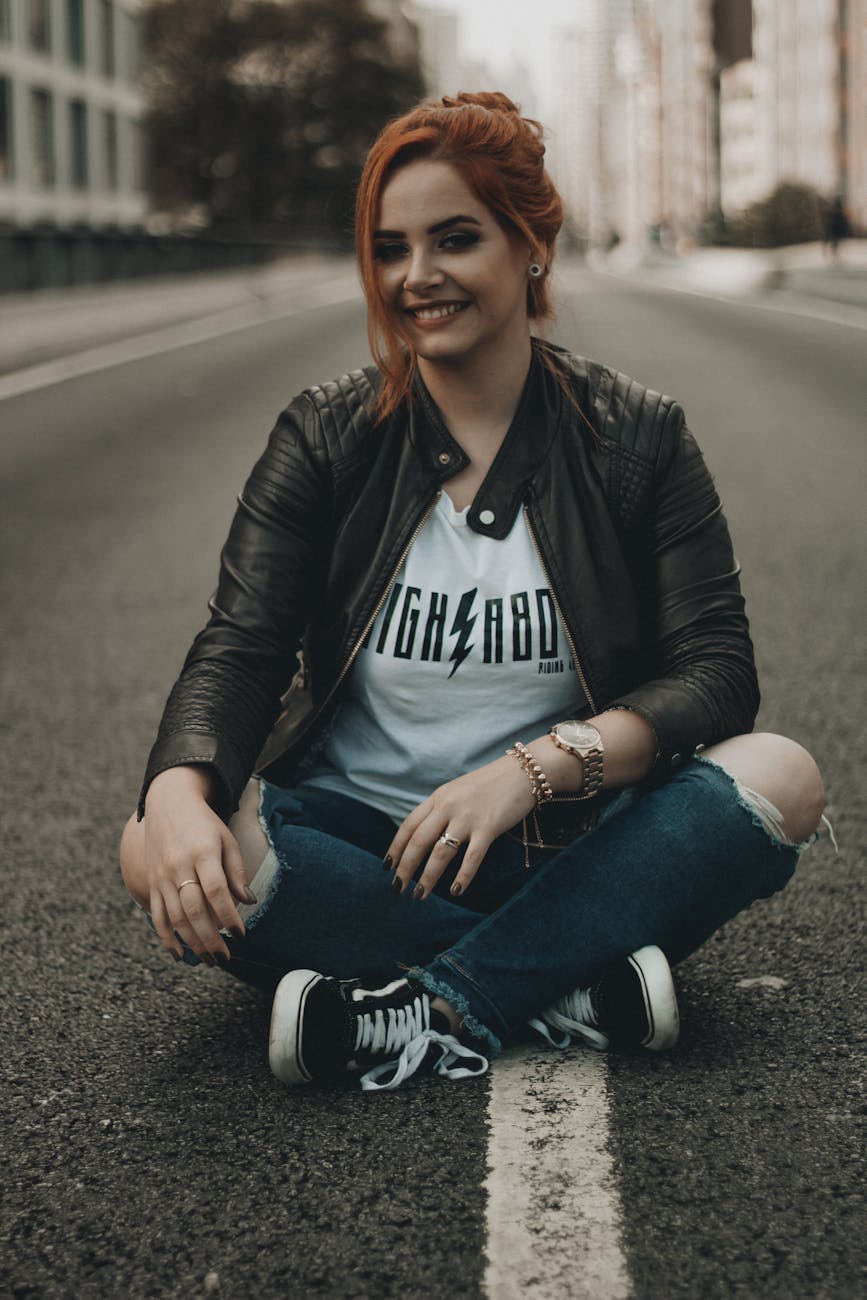 Whatever you do, make sure that you have at least one leather jacket in your closet this fall. Leather jackets complement fall clothing effortlessly. While most fall outfits look simple and pretty straightforward, a leather jacket always adds edginess to the look and sometimes, it's exactly what you need for the day.
11. Girly Girl
I did notice that most fall looks are less girly due to the ruggedness of the boots and scarves. However, I wanted to include this look because it is one of the cleanest fall looks I've seen…. and it's just so pretty too. Simply wear a long-sleeved shirt and tuck it in your pleated skirt and you'll achieve this girly girl look. But man, isn't that statement necklace amazingly beautiful?
Camel Coat Trens (Bonus Look!)
Probably the most casual look of the bunch, I wanted to show you how you can make your fall outfit work even without the heels, flats, and boots. Yes! You can rock it with classic sneakers too. In this look, it all worked because of that beautiful camel coat. Take it off and you'll have a simple casual look that works even in the spring or summer. So yeah, you better have gorgeous coats in your wardrobe too.
For more plus sized outfits, watch this video from Nicole Amberrr:
To be honest, I think fall season has the most flattering clothes for all women. The coats, the long-sleeved shirts, the tights, and those sexy boots easily work for curvy ladies like you. My advice? Flaunt your curves, girl, and take inspiration from these beautiful fall looks so you can add plus points to your style!
Do you want more ideas for your fall fashion looks? Just click here.
Love this? I know you'll love this even more…
Fall Accessories: Everything You Need
15 Off The Shoulder Tops To Flaunt This Fall
Flower Nail Art Tutorial Perfect For Fall