Off the shoulder tops made a huge comeback around last spring, and they proved to be a go-to summer outfit for many stylish girls and celebs alike. Well, it looks like the trend is here to stay this fall! If you're worried that this trend isn't appropriate for the fall, don't be. All you need is a bit of inspiration and the right styling tricks. Get your outfit inspiration from celebs, fashion bloggers, and street style stars who are wearing this trend all the way through fall.
15 Off The Shoulder Tops To Flaunt This Fall
How To Keep Wearing The Summer Staple This Fall
Off the shoulder tops are a summer trend I'm not quite ready to give up yet this fall. They're so comfy, and they let me show off my shoulders without being too revealing. Because of this, I'm in search of fall-appropriate ways to style my off the shoulder tops. If you can't let go of your off the shoulder tops either, you definitely shouldn't! Like they say, if there's a will, there's a way. And like I always say, you can pull off any trend and any outfit as long as you know how to style it. So read on for 15 ways to wear off the shoulder tops this fall.
1. Formal Off The Shoulder Tops
I've seen a lot of different takes on this style, but this one really stands out! The buttons and double-breasted detail make it look like a feminine twist on a tuxedo. Dress it down with jeans for a fashion blogger-approved outfit, but you can also dress it up with a black skirt for a stylish and unique evening outfit.
2. Ruffled Off The Shoulder Tops
Who doesn't love ruffles? I love this ruffled top in particular because it makes girly ruffles look edgy and chic. Pair it with heels, or even boots for a cowgirl-inspired look.
3. 70s-Inspired Off The Shoulder Tops
The off the shoulder trend is part of the 70s style comeback, so why not be faithful to its style roots? Pick a tight cropped off the shoulder top in a basic color like black or brown, then wear it with flare pants or jeans.
4. Casual Off The Shoulder Tops
Add some style to your lazy weekend outfits by incorporating off the shoulder pieces. Wear it with denim shorts and white sneakers, then just accessorize with a cute handbag. It's easy, but still fashion-forward!
5. Velvet Off The Shoulder Tops
Of all the tops I've seen today, this has got to be my favorite. The velvet fabric is perfect for fall, and it looks so luxurious. You can wear it the usual way with jeans, but I think a top like this will also look amazing with white culottes!
6. Knit Off The Shoulder Tops
It looks like we're not the only ones looking for ways to wear this trend during the colder months, because you can get off the shoulder tops in warmer fabrics like knit. This white top looks so cozy, I'll probably wear it everywhere this season!
7. Laid-Back Off The Shoulder Tops
If you don't want to go super casual with shorts and sneakers, try pairing your top with jeans and wedges. You'll still look casual and weekend-worthy.
8. Deep Red Off The Shoulder Tops
Color is one way to keep this trend fall-appropriate. Get tops in fall colors like rust orange, brown, or deep red and magenta. They'll look flattering on any skin tone as well.
9. Workwear Off The Shoulder Tops
For most of us, the start of fall means we're going back to work. And you can bring your off the shoulder tops with you! This trend is about a silhouette, so as long as your top looks polished and work-appropriate, there's no reason why you can't wear it to work.
10. Crisp White Off The Shoulder Tops
A white off the shoulder blouse is practically a closet staple by now. To style it for this season, go for boots, gold accessories, and your warmest pair of jeans.
11. Printed Off The Shoulder Tops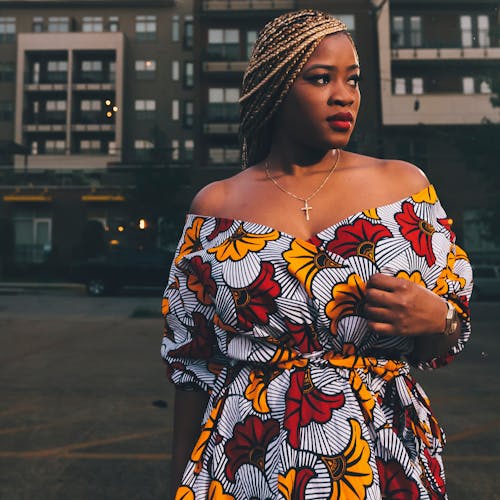 Florals and other prints can add a girly touch to an already feminine top. Stick to fall colors like maroon and orange, and more mature floral or graphic prints. I love this culottes and floral pairing!
12. Tucked In Off The Shoulder Tops
Want to show off your high-waisted skirts or pants? Try tucking in your off the shoulder blouse. You'll also be able to layer a blazer of a jacket over your outfit if it gets cold.
13. Denim Off The Shoulder Tops
Denim is one of those fabrics that can transition really well from one season to another. It's casual enough for summer, but warm enough for fall. So if you're looking for warmer fabrics, go for denim! A denim blouse will also match perfectly with almost any bottom.
14. Oversized Off The Shoulder Tops
Even Olivia Palermo loves the off the shoulder trend! Get her chic street style by rocking an oversized blouse paired with fitted bottoms like skinny jeans.
15. Layered Off The Shoulder Tops
The start of fall means you can start layering your clothes, which include all your off the shoulder pieces. This street style inspiration is a great way to keep wearing summer outfits during the fall: layer an off the shoulder blouse with a sleeveless tank dress.
This video from Refinery29 has tips to keep your off the shoulder tops in place all day:
Weren't those super cute? I can't decide which style to wear first! Whether you're going back to work, looking for a go-to weekend outfit, or dressing up for a night out, there are ways to rock the off the shoulder trend. Which one will you try out? Leave me a comment and let me know!
Love this girly yet playful off the shoulder dress? Get this Bianca Off The Shoulder Dress from Mason & Ivy.
Want more cute outfits for the fall? Check these out!
Liked these off the shoulder tops? You'll also like:
Cute Summer Outfit Ideas: How to Wear Off the Shoulder Tops
Fall Accessories: The Haves, Must-Haves & Needs